Generic PC Case for Desktop Computer: How to remove a Hard Drive
Removing a hard drive from a typical desktop computer is a trivial thing to do, because most of these desktop PC components are standardized. Motherboards come in a few standardized sizes and layouts, power supplies are physically about the same size and have standard mounting holes. All Hard drives fit into the same standard slots and have the same connectors.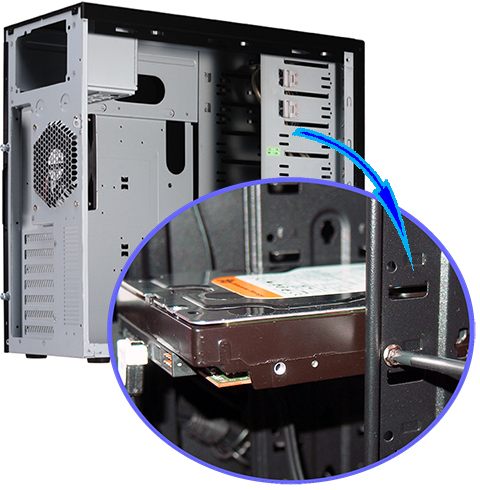 Pic.1
Internal bays for hard drive inside a typical PC case
The advanced modern desktop cases come with tool-less HDD-holders. You don't need even a screwdriver to remove hard drive from such PC. Just open the cover (couple of screws on the back for most models), slide away the couple of connectors from the drive (one from power supply, other from motherboard), and remove the drive from the internal bay.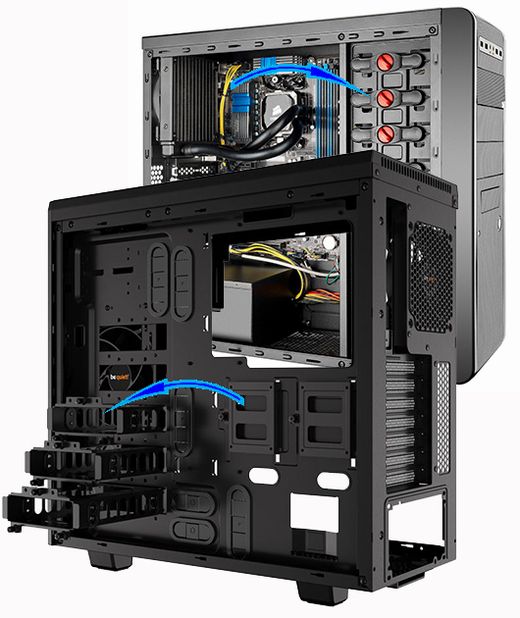 Pic.2
Internal bays for hard drives in advanced Desktop PC cases
Data Recovered. In Data Lab 24/7
Inaccessible Western Digital WD1002FAEX drive
Problem: DISK BOOT FAILURE; The drive is spinning normally. There's very-very low clicking noise.
Dear Sirs, I would like to thank you for the service you provided in recovering my files from failed WD drive. The customer support was very friendly and patient, the technicians are knowledgeable and accurate, and the whole process was very painless in such sensitive matter. Thanks again, Pascal Valcourt, Quebec Canada
Travelstar 5K750-500 Hard drive - lost data
Using computer one night and it just froze. I waited for 15 minutes and it was still frozen; I had to power it off with the on/off button. Upon rebooting the computer asked me for a 'hard drive' password when booting up. I have never setup a hard drive password so I don't know why it's asking for one.
I received DVDs, everything is in the order. Thanks for your support in getting data. My highest support of your name in data recovery business - reliable, honest, super professional. NCR Canada Ltd. Mississauga, Ontario, Canada