Cables for SATA and ATA Hard Drives
Power and Data Cable for 3.5-inch hard disk drive (For Desktop Computer or External Enclosure)
Any desktop computer hard drive has two connectors, one for power cable and other for data cable.
Power cable connects a hard drive PCB (Printed Circuit Board) with computer's power supply.
Data cable connects the hard drive with a computer's motherboard.
Depending on the drive model, it may be
SATA Hard drive connectors (S-ATA)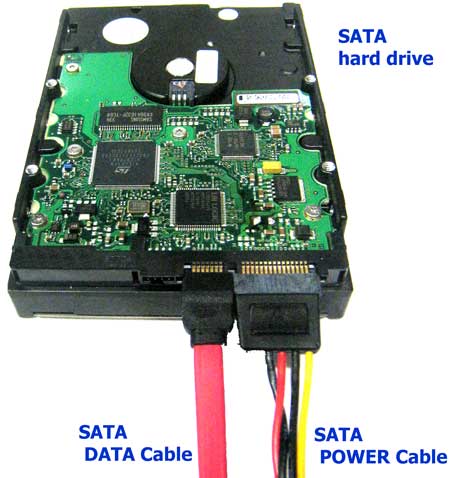 The wide connector is for the cable to power supply. The smaller one is for data cable to the motherboard.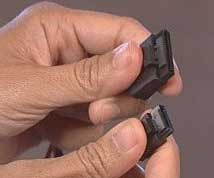 WARNING: Some SATA connectors must be squeezed to disconnect them.
ATA Hard drive connectors (PATA / Parallel ATA / IDE)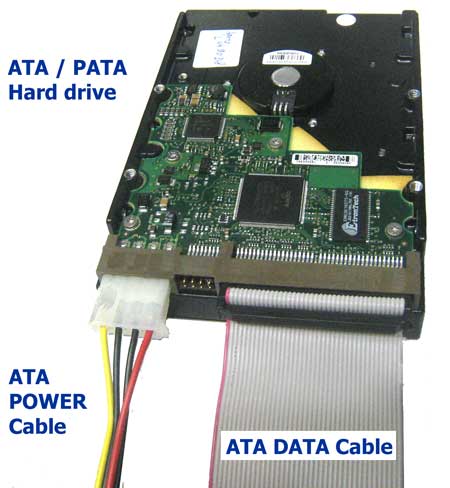 IDE/ATA hard drives can be still found in the old computers. Those are easily identifiable by wide ATA bus cable for data lines and 4-pin peripheral Molex connector for the thick colored wires from power supply (+12 V).
Some of the hard drives recovered in Data Lab 247
Failed Western Digital WD 3.0TB WD30EZRX-00D8PB0 hard drive repair required
Hard drive is not detectable by computer hardware, inaccessible, and not spinning
Thank you for helping me out in such prompt manner. I appreciate all you hard work and will recommend your company's service in the future. Respectfully, Taras The Toronto Star, Ontario
Seagate Barracuda ST3000DM001 Firmware flashing failed
Drive began failing by failing to mount partition 1
but mounting all others. Partitions 2-3-4 will not mount. #5 will mount briefly, but system wants to initialize as slave. Will spin, no clicking.
Dear Sirs, Please accept my appreciation in expressing how thankful I am for your services. I'd recommend it to anyone who is in the same situation as I was. My experience with your company as painless and flawless as could be. It is very important in nowadays as many companies promise a lot and deliver nothing. Best regards, James Scottsdale, AZ USA